How Do You Plan Your Content?
Over the years, I've tried several scheduling tools for planning my social media content, and I found some great contenders. 
However, with every platform I tried, there was always something missing; a disconnect between the WordPress content I was publishing and the social channels I was using to share that content.  
Then I discovered CoSchedule. Coschedule offer scheduling and planning tools that allow you to template your content's production and content sharing schedule based on its publication date.
Disclosure: Articles on this site contain affiliate links. For more details, see the full disclosure.
How Can CoSchedule Help?
With Marketing Calendar by CoSchedule, I can jot down my blog ideas easily, as they come to me. They sit in the 'ideas' column, where I can add notes, images, links and more.
When I'm ready, I can the ideas area onto my calendar to schedule them and begin building them out into fully-fledged blogs posts, this will give me a writing and production task list (which I can customise to suit my writing process)
Within the calendar item I have access to all the associated media; images, videos, etc., and I can easily add a full schedule of social media content which then gets auto-scheduled and posted using templates I created.
UPDATE: Co-Schedule now has a new Forever-Free plan for their Marketing Calendar!
CoSchedule's Marketing Calendar Features
Templates
Scheduling Templates
Set up the schedule templates once and apply to all blog posts, or set different schedule templates for different types of content.  Schedule templates are based on publish date of your WordPress content. For example you can set an Instagram Post for same day, a Facebook Post for two days after publish, multiple tweets for days through the week following.
Social Message Templates
Social templates allow you to automate the structure of your social posts, so they are automatically built using the elements for the WordPress Post such as the Title, the Featured Image, the Excerpt, the Permalink, etc. You can also add your own helpers that you then add content to.  Although I've not tried it myself, the Marketing Calendar also offers the ability to bulk upload social posts via CSV file upload, they even provide a CSV template file to get you started.
Calendar View
The Calendar view gives great high-level visibility of all your content, not only social content but also your blogs posts, email marketing campaigns and more. You can even link your personal or work calendar using the Calendar ICS Sync, one of the many integrations available within Coschedule.
Create custom views of your calendar using filters and options, including changing the start of the week, hiding/showing weekends, hiding/showing synced calendars. If you have a wider team, filters can be used to show only tasks and events relevant to you, or see your team's tasks.
Your calendar view will also show those posts published manually or by other tools (the grey blocks)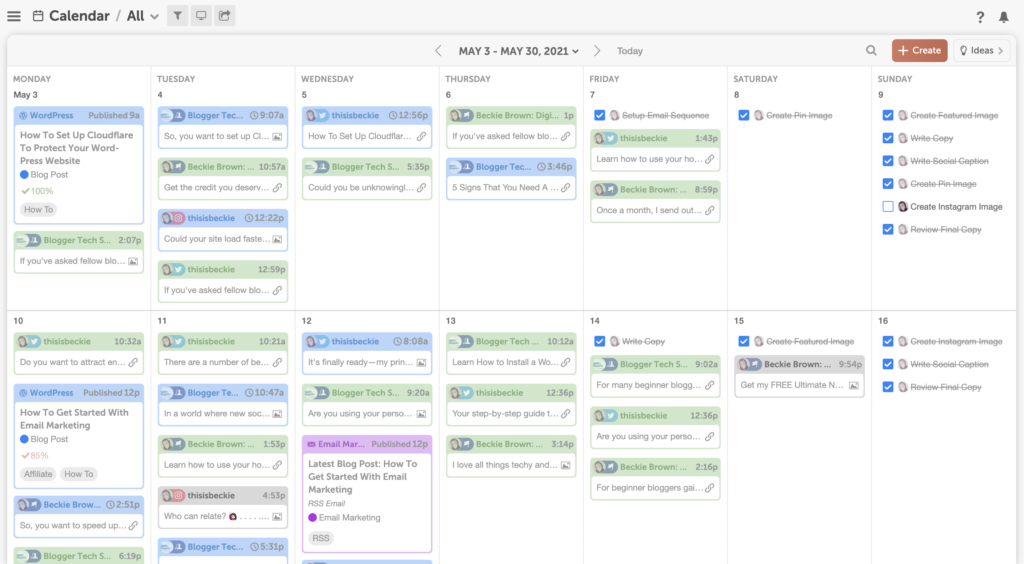 Requeue
Looking at that image above, the calendar view shows all the social posts scheduled by the Requeue feature (the green blocks).  Requeue allows you to re-purpose all your published content across your social channels in an automated way. 
My Facebook groups and pages are never silent, with content consistently being recycled and offered to new members and followers who may not have seen it the first time around. 
As you're always adding new content, you get a great balance of both new and old content being published to your social channels without appearing repetitive or spammy to your followers.
WordPress Plugin
The CoSchedule WordPress Plugin allows you to manage your blog post content and all the associated social content related to them directly within WordPress. 
The WordPress plugin adds a calendar view accessible via your WordPress Dashboard. It also adds a social campaign widget at the bottom of the post editing page. This lets you manage the social campaign without needing to visit the Marketing Calendar app separately. 
In short, once you're all set up, you no longer need to leave the comfort of your blog to manage all your content unless you want to!
Headline Analyzer
If you watched the video above, you probably spotted the Headline Analyzer tool that comes as part of the plugin. This feature helps you to craft the perfect headline to draw readers into reading your article.
Based on several factors, including no. of words, no. of characters, use of power words and emotion, the headline analyzer gives your headline a score between 0 – 100. I generally aim to get 70+ (so the circle indicator turns green). CoSchedule also offers this as an independent tool: Headline Studio.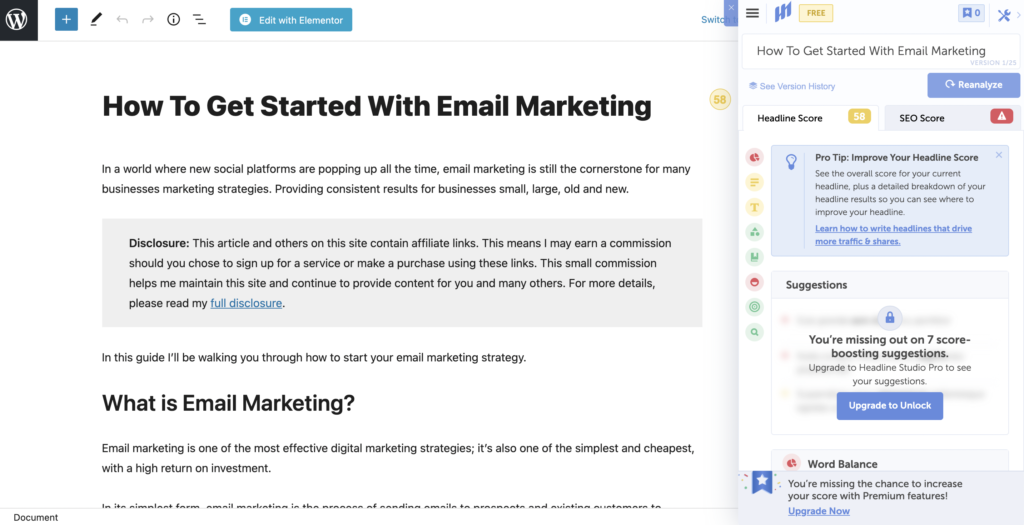 You can try Headline Analyzer independently of CoSchedule or the Headline Studio, no account required, or jump straight in and try Headline Studio which works as a browser plugin, this is also free.
Integrations
Aside from those I've already mentioned (Calendar Sync, WordPress) your Marketing Calendar can also integrate with a wide variety of other online tools and social channels to help automate your process as much as possible. See the image below for the latest list (correct at time of publication).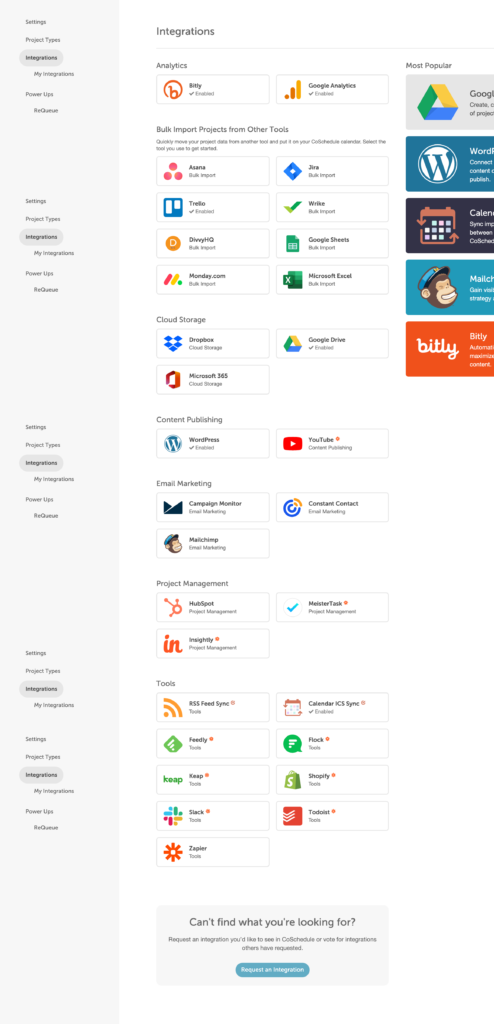 Summary
Since I've started using CoSchedule Marketing Calendar my content production and planning has run much smoother. I now have a one-stop-shop to note down content ideas, readily move those ideas into the schedule, quickly produce a comprehensive social campaign and always have a great view of my to-do list and priorities. 
CoSchedule keeps my content planning and production on track in ways no other tools have before!
Plan Your Content Better – Try CoSchedule's Marketing Calendar
UPDATE: Co-Schedule now has a new Forever-Free plan for their Marketing Calendar!

Found this article useful? Say Thanks with a pin 📌