Email marketing is one of the most effective types of marketing, with a huge return on investment. According to HubSpot, the average return for every dollar spent in 2020 was $42. So how are these results achieved?
There are some simple do's and don'ts to improve your email marketing strategy, ensuring you keep unsubscribes to a minimum and stay off the dreaded sender blacklists.
Disclosure: Articles on this site contain affiliate links. For more details, see the full disclosure.
The Dos of Email Marketing
Increase both your open rates and your click-through rates, keep subscribers happy and engaged:
Do know your audience.
It's essential that when you're emailing your subscribers that you are providing the type of content, they signed up to receive. Your audience has likely joined your list based on your existing content, product or offers on your website, and they will be expecting more of that same kind of content.
If you are a mom blogger regularly producing content that speaks to raising children and providing handy household hacks, don't suddenly start sending emails on how to buy stocks and bonds, this won't resonate with your audience of parents with young children; they are much more likely to be looking to save money and maximise their budget.
Do know the types of emails you plan to send
It's important to set expectations with your audience when they join your list. Make it clear in your sign-up forms what they are signing up to receive.
You could be sending a once-monthly newsletter with your latest articles and offers. Or perhaps you're sending them weekly emails promoting your products and services. Maybe you're sending a nurture sequence after a new subscriber has signed up or purchased a product from you.
Whatever the purpose, it will affect how you structure your email and set the tone and volume of content you put in your emails.
Do understand the purpose of your emails.
Think about what the purpose is or each email you send. Is it to help build rapport with your new subscriber? Are you trying to encourage them to engage or re-engage with you or your business? Are you trying to garner more sales of a product or service?
Understanding your email's purpose will help you write the body of your email and provide you with your call to action (CTA).
Do set goals!
Set measurable goals for your email marketing campaigns. If you're trying to increase sales of a particular product, set a revenue goal for sales of that product from the email blast. If you're trying to increase web traffic or re-engagement, set a goal for return visitors, you can use Google Analytics with the links in your emails to see how much return traffic was generated.
Do test your emails
Make sure the emails you are sending don't come across as spammy. Use tools such as mail-tester (free), Litmus (paid), Email On Acid (paid) to test your emails before sending them to your list. These services will let you know if anything in your emails is coming across as spammy and will warm you if your email is likely to end up in the subscriber's spam folder.
The email templates provided by many email marketing services are designed to meet best practices and are a great starting point if you're new to email marketing (I use Mailerlite, they have a free plan).
Do follow the letter of the law.
Always follow any data protection laws that apply to you, and be aware that the laws of other regions may apply when doing business online with the residents of those regions. GDPR requirements apply to all those outside the European Union who handle the personal information of EU residents. (GDPR = General Data Protection Regulation)
Managing your email list with an email marketing tool such as Mailerlite can make GDPR compliance and data management much simpler. Email marketing tools will always insert an unsubscribe link to all your emails making it easy for your readers to self-manage their subscription and allowing them to opt-out at any time (this is essential!). Whatever tool you choose will act as a data processor, so make sure you list it in your privacy policy.
The Don'ts of Email Marketing
The last thing you want is for subscribers to leave your email list after just a couple of emails.
Don't forget your call to action.
This should be the subtext of your entire body copy and the central message of your email. This is the action you want the reader to take after reading your email.
Don't spam or overwhelm your subscribers.
If you told your readers that they would only get one email from you a month when they subscribed, then don't suddenly switch to emailing them daily. This will result in you being reported as spam by those who don't want to receive your emails often.
Don't send emails you didn't get consent for.
Unless you made it clear in your sign-up form that your subscribers would receive marketing emails from you, do not send them; stick to the content type you promised. If they subscribed to receive an occasional newsletter from you, that's what they should receive. Even though your subscribers signed up to receive emails from you, some will still report you as spam if they feel you're not sending them the content they signed up for.
Don't add people or email addresses to your subscriber list without their consent.
You must not add an individual's email address to your email list without their valid consent. This is a big GDPR no-no. You want them to add themselves to your list via your website or social media profile.
What is valid consent?
Valid consent, under GDPR, is when a data subject (subscriber) freely gives informed consent either through a written statement or by taking clear affirmative action. This means that at the point of sign up, it should be clear to the subscriber what emails they are consenting to receive and how you will use their details. Implied consent is not good enough!
Email Sign-Up Form Best Practices
Clearly state what emails the data subject is consenting to receive.
Include a link to your full privacy policy that includes details on how the user's data is going to be used, stored and any data processors involved.
Use a data processor that records the data subject's date, time, and IP address when signing up. Remember, the onus is on you to prove you received the individual's consent.
What Makes an Effective Email?
Put your best foot forward with your email subject line
The big question in email marketing: how do you get people to open your emails? In order to ensure that readers open and click your emails, you will need a strong, direct subject line that gets across the purpose of your email and why the reader should open it. Your perfect subject line should be no longer than I use CoSchedule's Email Subject Line Tester before sending my emails.
Quality Email Content
Your email's body content should be clear, concise, direct and informative. It should include only essential information relevant to the email's purpose/goal, save the waffle for dessert. Any additional information should be saved for your landing page, don't be afraid to use that 'Learn More' call to action within your email body.
With exception to the occasional stylistic flair or widely understood casual expression, always use proper grammar and correct spelling. Poor grammar and spelling can be very frustrating to read and can give the impression that you don't value your readers enough to invest the time in getting your emails right. Try using a free tool such as Grammarly to check your copy before you hit send.
Clear Structure and Call To Action
Make sure your email has a clear start, middle and end. A clear, relatable structure helps the subscriber understand when it's time to take action and how to proceed. Your Call To Action should be super clear and move the reader to the next step in your marketing funnel; your landing page, product page, social profile, etc.
When Should You Send Emails?
Ultimately, you want more people to open your emails and click through to your website and content; a big step towards achieving this is sending your emails on the best days at the best times to appear in your reader's inbox when they are most likely to be checking their mail.
Co-Schedule compiled the results of 14 different email studies to summarise the best days and times for email sending. Co-Schedule recommends sending emails on Tuesdays, Thursdays and Wednesdays (in order of performance).
Tuesdays – According to the majority of the studies that Co-schedule reviewed, Tuesday was the top-performing day for sending emails.
Thursday – Recommended as a second sending day if you send multiple emails a week.
Wednesday – Appearing in several studies as the second-best performing day of the week, Wednesday is another good option for sending weekly emails.
(Source: Co-Schedule)
The Importance Of Timing When Sending Emails?
It's not only the delivery day that is an important factor in your email campaign; time of day is also a key. Co-Schedule's review also looked at timing, providing the top 4 time slots for sending your emails:
10 am – Winning the top spot is 10 am (closely followed by 11 am). Late morning slots were by far the most popular across all studies.
8 pm – 12 am – Between 8 pm and Midnight is the second-best performing slot, believed to result from many people checking their emails before bed.
2 pm – A top performer with those who check their emails later in the afternoon, perhaps while winding down their workday and seeking distractions.
6 am – Much like the bedtime browsers, people also check their emails as soon as they wake up; after all, in the 24/7 digital world, a lot can happen while you're sleeping!
(Source: Co-Schedule and EngineMailer)
What is the Best Time to Reach Your Audience?
Of course, everyone's different so it's always worth testing a variety of times to establish what works best for your audience. Try sending emails across a variety of the recommended dates and times to see if there is a clear pattern of improved open or click rates.
What time zone should I base my sending times in? This really depends on what kind of business you are running and where your audience is located. Online businesses tend to have a more widespread reach and may have an audience spread across multiple time zones.
It may be worth looking at where the majority of your audience is and using this as your choice of timezone. However, some email marketing services such as Mailerlite offer the ability to send emails based on recipients local time zones.
How Often Should You Send Emails?
The regularity of your emails can also have an impact on their effectiveness. Too often and you risk overwhelming your readers, too few and far between can risk your subscribers forgetting who you are and why they joined your list.
Weekly emailing (~4 times a month) is a fairly standard approach for many and can be highly effective. Monthly emails can also be as effective but have a higher risk of being missed. According to Campaign Monitor, 39% of marketers recommend emails 2-3 times a month.
If you're unsure what will work best for your audience, run some tests. You could start with a couple of emails a month and ramp-up to weekly if the response is positive, stick with twice a month or reduce to once a month. Discover what your audience wants and run with it.
Why not try providing an option to let subscribers choose how often they want to hear from you, with an 'update subscription preferences' link in your email footer, this functionality is supported by most popular email marketing services.
In Summary
Test! Test! Test! Test your emails before sending them to your audience. Test a variety of times and days. Test your sending frequency. Work to the preferences of your audience.
Quality over quantity. Write clear and concise quality content to help lead your audience to take action.
Be compliant, whichever rules apply to you… GDPR (EU), CCPA(California), LGPD(Brazil). The onus is on you to ensure you are compliant.
If you haven't started building an email list yet, why not?
Check out these 6 reasons to start building your email list today!
📖 Want to read it later? 📌 Pin it now!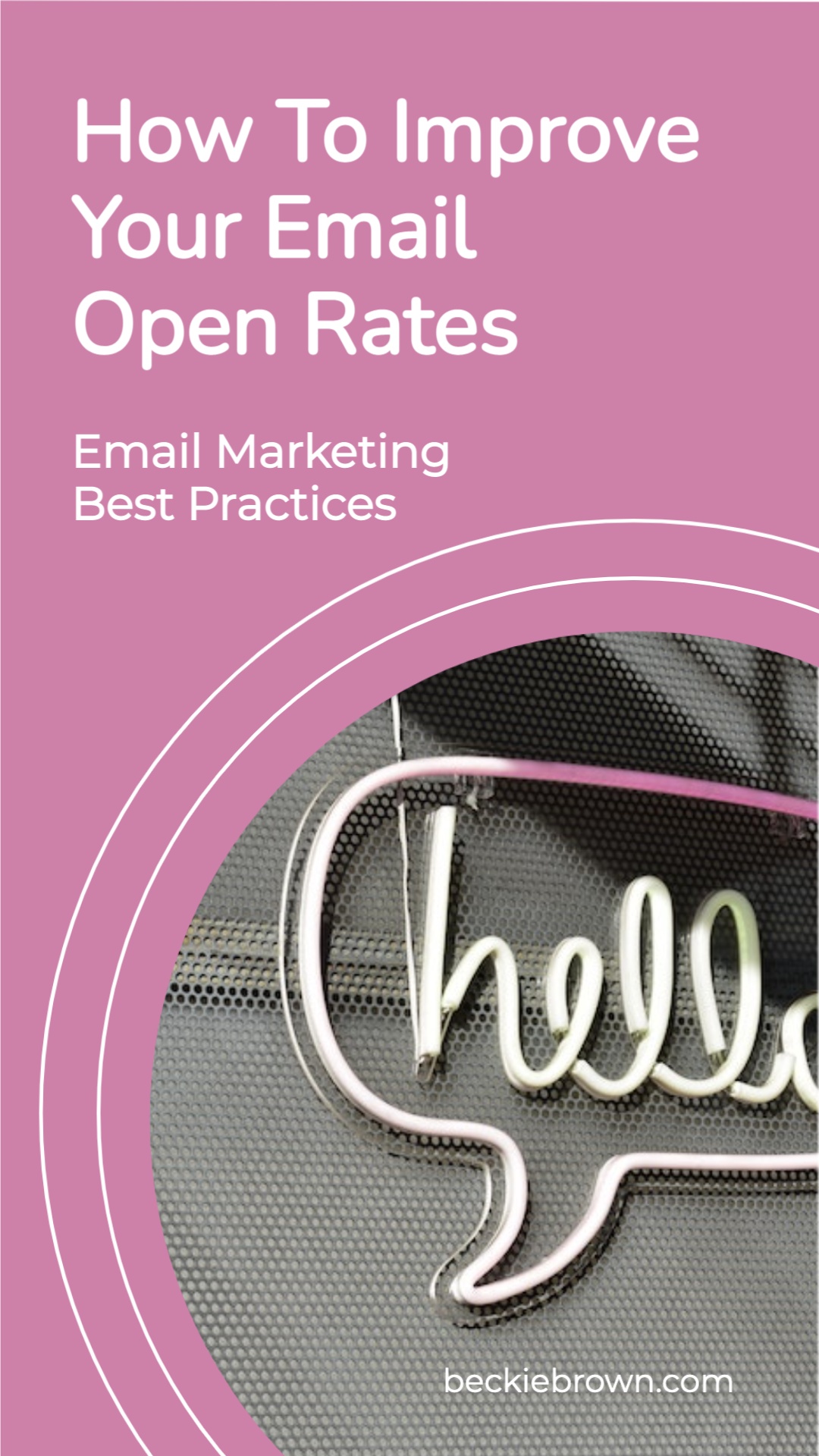 Sources –
Co-Schedule: https://coschedule.com/blog/best-time-to-send-email
Engine Mailer: https://www.enginemailer.com/blog/best-time-to-send-email
Campaign Monitor: https://www.campaignmonitor.com/blog/email-marketing/the-surprising-data-about-how-often-to-send-promotional-emails/
Keap: https://keap.com/business-success-blog/marketing/email-marketing/how-often-should-you-email-your-list
Data Privacy Manager – https://dataprivacymanager.net/gdpr-consent-guidelines-explicit-consent/