Email marketing is one of the most cost-effective ways to reach potential customers. It can be an easy way to engage new subscribers, incentivise customer loyalty and drive sales. For some small business owners, email marketing may seem like a daunting task – but it doesn't have to be!
It's no secret that we're living in a digital world. Even the most low-tech people have at least one email address and check their inbox on a regular basis. So, why not capitalise on that by regularly communicating with customers and subscribers by email?
If you don't know how to create an effective email, fear not! This blog post will show you how to create emails that convert your loyal subscribers into paying customers.
First, set a goal for your email
If goals are unclear, people won't understand they're receiving your email, it won't provide them value. Use the five W's to establish the goal of not only your overarching campaign but also of each individual email:
Five W's:
Who – Who are you sending your email to, think about relevancy; who is the right person to receive this content. Select your segment or list based on this, send this email only to those people that it is most relevant to. No one wants irrelevant email cluttering up their inbox.

What – What do you want your contacts to do with this email? Download? Sign up? Purchase? If you don't know, how can you expect them to know!

When – When to send your email is an important factor, not only with regards to the day of the week or time of day but when in the buyer's journey. Are the contacts you're sending this email to in the right stage of the buyer journey for this content and goal?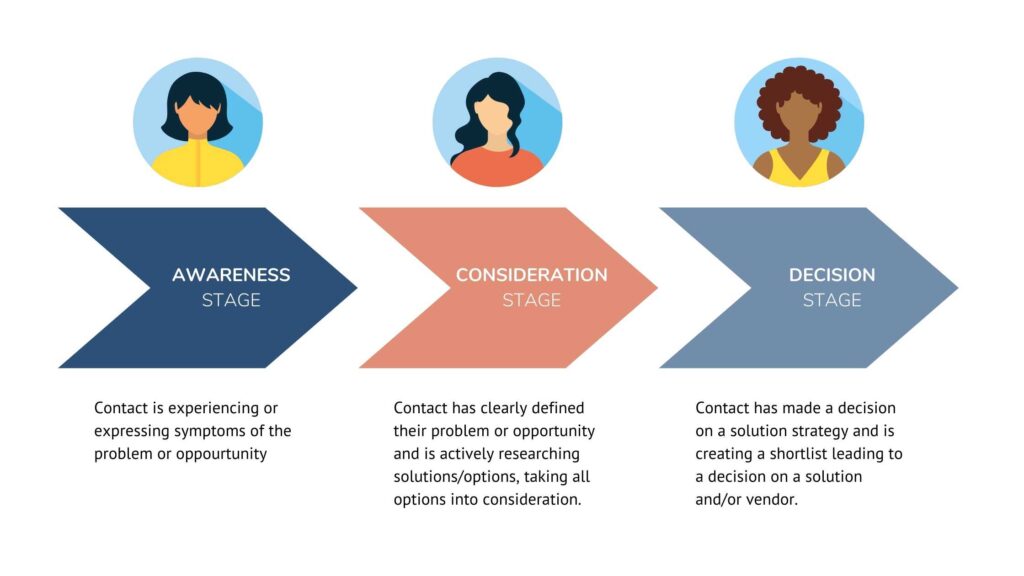 Where – Where are your contacts reading this email? Are they reading it on a laptop or desktop computer with a large screen, or are they reading it on a mobile device? According to HubSpot, 48% of all emails are opened on smartphones, so it's important to keep size in mind when designing your email.

Why – Why have you decided to press send? What is your desired outcome? What value does the reader receive in this email? How does this fit with other conversations you're having with your contacts through other channels such as on your website or social properties?
RELATED: GET YOUR FREE IDEAL CLIENT AVATAR TEMPLATE
Optimise each component of your email
To maximise conversions to your goal, you'll want to optimise each individual component of your email to lead your readers to take two key actions: Open the Email & Click the Call To Action.

Action #1: The Open
Without achieving 'The Open' you will be unable to take your reader any further towards conversion. Your subject line, sender name, email address and preview text ALL have an impact on whether a contact opens your email, so let's look at those.
The Subject Line
The welcome mat at the door to your email.
I highly recommend keeping your subject line short and sweet. Aim for a maximum of 40 – 50 characters, this will allow your full subject line to be visible on mobile devices. Remember that stat we talked about earlier… 48% of emails are opened on mobile devices, so you don't want your subject line to get truncated.
Avoid any language that isn't human and helpful, remembering that some words such as 'free' and 'discount' can be considered spammy and land your email in the reader's junk folder. Be creative and think outside the box. If your list is large enough (>1,000 subscribers) A/B test your subject lines to find out what works best with your audience.
Senders Name and Email Addrss
Use your name or the name of a relevant individual on your team, this helps give your emails a conversational feel and a personal touch. Stay away from role-based email addresses such as [email protected], these can feel impersonal and are more likely to be marked as spam. You are a real person, so put yourself across that way.
Preview text.
This is the little bit of copy that appears in the inbox view directly below the subject line, use it wisely. Continue the message you provided in your subject line. Tease the content of your email but don't mislead your reader into thinking the content is something it isn't.
Action #2: The Click
The power of providing value through effective email copy can often be underestimated.
Write your main email copy with clarity and purpose, keeping your primary goal at the forefront. Create a conversation, be personal and relatable. The body of your email is the key to creating the conversation.
Some tips for writing your email copy:
Write for scanability:

Keep paragraphs short
Make headlines bold
Use bullet points.

Use the correct tone for the segment/persona you are emailing.
Personalise your content when appropriate, to make it relevant and engaging for your reader. Not just using their name, but also making use of known behaviour, recent visits to your site, engagement on other channels etc.
Proof read!!! Spellcheck, grammar check, some people can lose trust over the smallest of things.
Your Call To Action (CTA) is the most important element, this will move the reader to the next step of reaching your goal. Stick to one clear CTA to promote the primary goal and keep these questions in mind:

What do you want the reader to do?
Why should they do it?
How will they know to do it?
RELATED: 6 REASONS TO START GROWING YOUR EMAIL LIST TODAY
What do high converting emails look like?
Now that we've covered the internal and external content of your email let's talk about the visuals, what should the email look like, how should it be designed and how should images be used as part of your email.
Create An Email Template
The big question often asked… HTML or text-based? This has been debated back and forth among marketers for years and it really comes down to what works for you and what is most appropriate for your audience. Regardless of which you choose, your email needs to show what you're trying to convey. Aim for a clean, uncluttered design that funnels the reader's attention to the CTA.
Establishing a consistent template for use each time you create a new email will give you consistently branding that your audience will become familiar with and will speed up the process of creating new emails in the future.
Try having different templates for different types of emails, this will help the reader see the different types of conversations you're having with them. One template for newsletters and product updates which may have multiple different CTAs, another template for sales and offers with a focus on a single CTA.
Images and Email Design
Including images is a great way to engage your reader, but make sure you know what the email will look like if your readers don't see the image(s)? Is there still a visual hierarchy when images are not present? Is all the necessary information and value still there for the reader without the images?
Test your email by sending it to yourself and try to view it on a variety of devices and email clients, to foresee and fix any potential problems.
Use as few columns as necessary. Complex designs can cause the reader to become confused over the primary goal or action they should take and remember that multi-column designs may not get laid out as you expect when viewed on a mobile device.
Email is the best channel to have conversations but it can't do everything, remember your contacts aren't reading your email in a bubble they're also being exposed to content on your blog, website and social media channels, so you don't need to overwhelm your readers with too much information in every email, let your emails be a support act for the main stage.
Your Email Footer and Legal Obligations
This is essential. Your email footer must contain two things: Your physical business address and a method of opting out (usually an unsubscribe link). These elements are a part of making your email CAN-SPAM and GDPR compliant.
CAN-SPAM Act & GDPR – These are laws that set the rules for commercial email. They establish the requirements for commercial communications and give the recipients the right to have you stop emailing them.
Your footer must include your physical address and unsubscribe links, in EVERY EMAIL. Giving your emails an unsubscribe option also builds trust with your audience and shows your continued commitment to compliance with relevant laws.
Sending a high conversion email is about more than just sending an email. It's also about understanding how the human brain works and then using that knowledge to make your emails as effective as possible. So, in case you want some help crafting the perfect marketing message for your customers or just figuring out where to start, book a call with me now and I can help you get you on track to email success.
📌 Pin This Article