In a world where new social platforms are popping up all the time, email marketing is still the cornerstone for many businesses marketing strategies, providing consistent results for small businesses, large enterprises, online stores, bloggers and more.
Email marketing is a great way to build customer loyalty, drive sales and support marketing efforts on other marketing channels, increasing brand awareness.
Disclosure: Articles on this site contain affiliate links. For more details, see the full disclosure.
In this guide, I'll be walking you through how to start your email marketing strategy.
What is Email Marketing?
Email marketing is one of the most effective digital marketing strategies; it's also one of the simplest and cheapest, with a high return on investment.
In its simplest form, email marketing is the process of sending emails to prospects and existing customers to convert prospects to customers and customers to loyal fans who tell all their friends about you!
What is an Email Marketing Campaign?
An email marketing campaign generally consists of a series of emails sent to customers and prospective customers to communicate information about a product or service.
The Benefits of Email Marketing
So why should you consider implementing an email marketing strategy? First, let's consider some email statistics courtesy of Optinmonster:
Did you know that 99% of email users check their email every day! If you've got 1000 subscribers, that's like having the opportunity to put your products in front of the same 1,000 people every day!
58% of users check their email before checking any social platforms or news feeds. Ever wondered why you get emails at 4 am? This is why! Those businesses want to grab your attention whilst you're having your morning coffee, and there's still cash in your pocket.
Thanks to the advances in mobile technology, email's can now be checked almost anywhere, with people checking their email while on vacation (79%), in bed (57%) or whilst sat in front of the TV (69%). Imagine the possibilities when you have access to your audience regardless of where they are and what they're doing, any time of the day.
Email Marketing Tools
So, now you're primed and ready to engage your prospects and customers with an email marketing strategy, let's look at some of the email marketing tools available to help you do this.
To run email marketing campaigns, you'll want to use email marketing software; it is not advised to use a regular email account for this. A good email service provider will offer a range of benefits that will hone and perfect your email marketing strategy by:
Helping you manage your list, particularly your compliance with GDPR (unsubscribes, data deletion, etc.)
Helping you to design professional-looking emails that provide a positive user experience to your customers.
Allowing you to track email opens and clicks to see what works and what doesn't.
Helping you create forms and landing pages to grow your list.
Helping you reach people's inbox, avoiding spam filters.
Some popular email marketing platforms include:
Mailerlite – Mailerlite help you do email marketing 'your way'. Paid plans start at $10 per month, with a free plan that includes a great set of features.
ConvertKit – ConvertKit describes itself as the Email Marketing Platform for online creators. Paid plans start at $29 per month. Convert kit also offers a free plan, although this doesn't offer automation or sequences.
OptinMonster – OptinMonster describes itself as the #1 most powerful conversion optimisation toolkit in the world. Paid plans from as little as $9 per month, no free plan, but they offer a 14-day free trial.
Building Your List
Before you can start sending your marketing emails, you'll need to start building your email list. This means collecting the email addresses of the readers and/or customers that want to receive your emails.
You can import an existing list of contacts such as those from your CRM, eCommerce platform, etc.; however, you must ensure you have the customers permission to send marketing emails to them.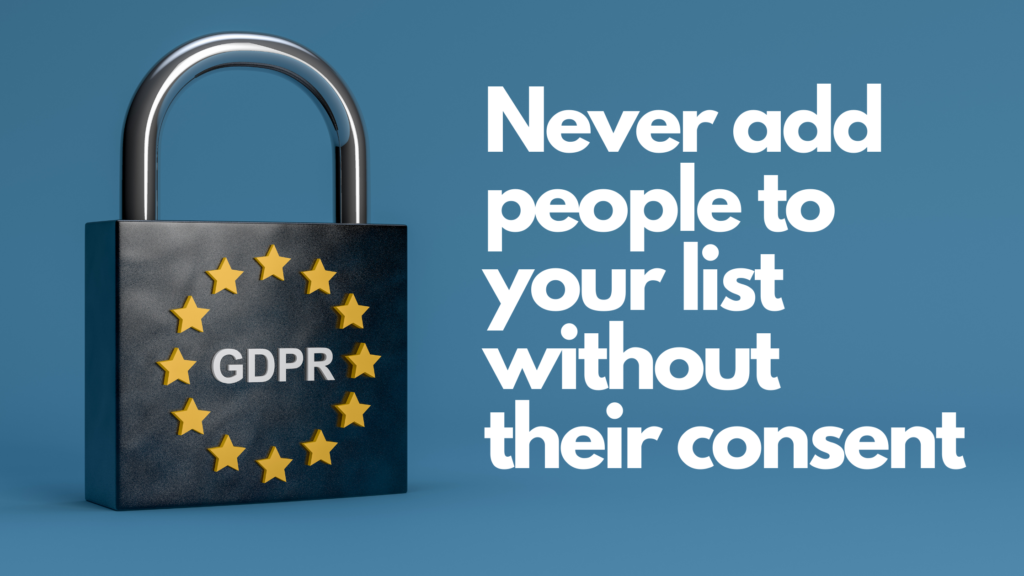 You must always get permission to add a person's email address to your email marketing list on an opt-in basis (particularly if you, your target audience or your customers are based in the EU). Unsolicited emails are not acceptable!
Pay attention! Just because someone purchased from you does not give you permission to send marketing emails without their explicit consent, only transactional emails related to their business with you.
One popular method used by many people to encourage people to join their list is to provide exclusive content as an incentive, such as downloads, printables, templates, coupons, etc.
Your marketing emails should always offer value to your readers, let them know what to expect from your emails and how often to expect them when they sign up. Show how they will benefit from joining your list beyond any initial sign-up incentive such as:
exclusive discount codes and pre-sales (promotional emails)
event invitations (member exclusive emails)
exclusive news and updates (newsletters)
new product announcements
helpful tips and advice
Remember to be CAN-SPAM and GDPR compliant you must ALWAYS provide an unsubscribe link, (or similar method of opt-out).
Creating & Sending Emails
Now you have people on your list; you can start marketing to them by email. Most email marketing platforms offer both pre-designed templates and the ability to design emails from scratch using drag and drop systems of pre-made blocks or modules to add your content within.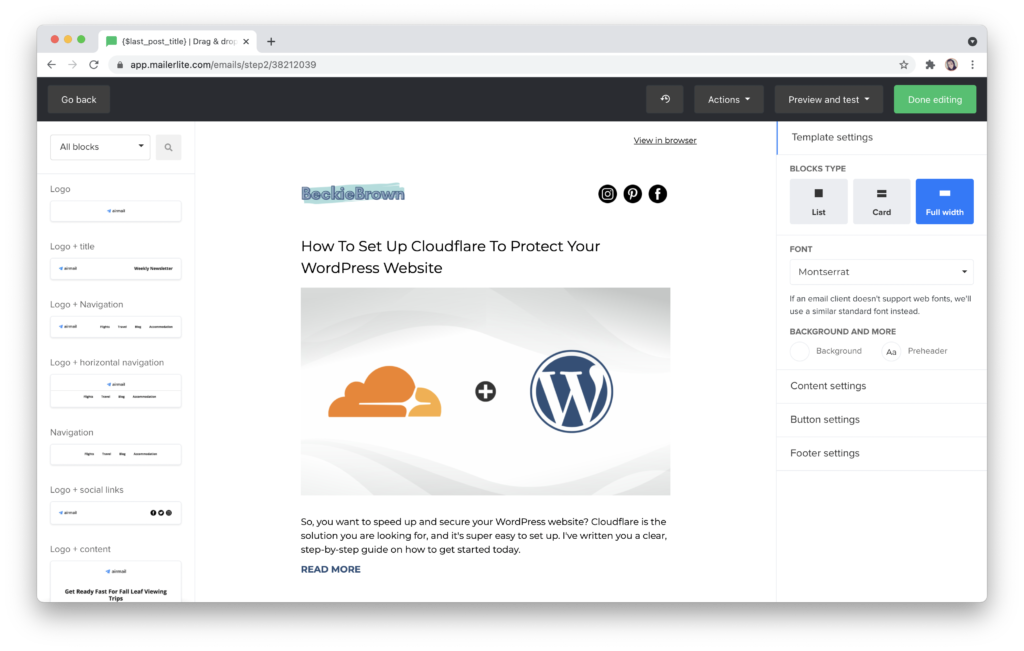 It's important to understand that email like most marketing channels consistency is required to achieve the best results. I highly recommend creating an onboarding or nurture sequence for your new subscribers.
What is a Nurture Sequence?
This is an automated sequence of emails designed to help you build a connection with the subscriber, making them more familiar with your brand and continue to showing them the value you have to offer.
A nurture sequence can help reduce your unsubscribe rate and increase repeat customers and visitor traffic to your online presence (such as your social media profile and/or website).
HOW TO CREATE EFFECTIVE EMAIL MARKETING CAMPAIGNS
Stay In Constant Contact
After your nurture sequence, don't go cold on your subscribers, make sure you are continually and consistently delivering content via email. Decide how often you are going to send out your emails; daily, weekly, bi-monthly, monthly?
Formulate a content plan for future campaigns. Start a regular newsletter to inform subscribers of new blog posts, products or features, set a schedule and stick to it. Some email service providers offer automated emails based on your blog's RSS feed, sending out newsletters showing your most recent blog posts.
You may need to experiment with frequency and content, but once you find the sweet spot that works for you and your subscribers, just stay consistent and reap the rewards. Use your campaign reports and customer data to learn what kind of content your audience responds best to, this will aid your future campaigns.
Learn about the importance of your email address, call to action and subject line in my blog How to Create Effective Marketing Emails