One of the most important parts of running any kind of website is SEO (search engine optimization). It's important to know what you're doing with SEO because if not, your blog can really suffer in terms of traffic and how well it ranks on search engines. So today we'll look at 3 quick fixes you can make to improve your SEO today:
Headline Optimisation;
Use of Alt tags;
Internal linking.
Let's get started!
Disclosure: Articles on this site contain affiliate links. For more details, see the full disclosure.
#1 Optimize Heading Structure For Search Engines
Ever noticed how WordPress defaults to H2 when you add a new header block? There's a good reason for that!

Your blog's main title should be the only H1 tag on the page. This gives search engines a clear indication of what this page is about. Your blog title should include your main long-tail keyword.
It's also important to ensure the other headers you use in your content follow a clear hierarchy that aligns with the topics and subtopics you are writing about.
Your main subheaders should use H2 tags, remember, we're reserving the H1 tag for the blog title. Any sub-topics within this H2 header should then use H3 tags. This helps search engines understand the importance and relevance of these topics.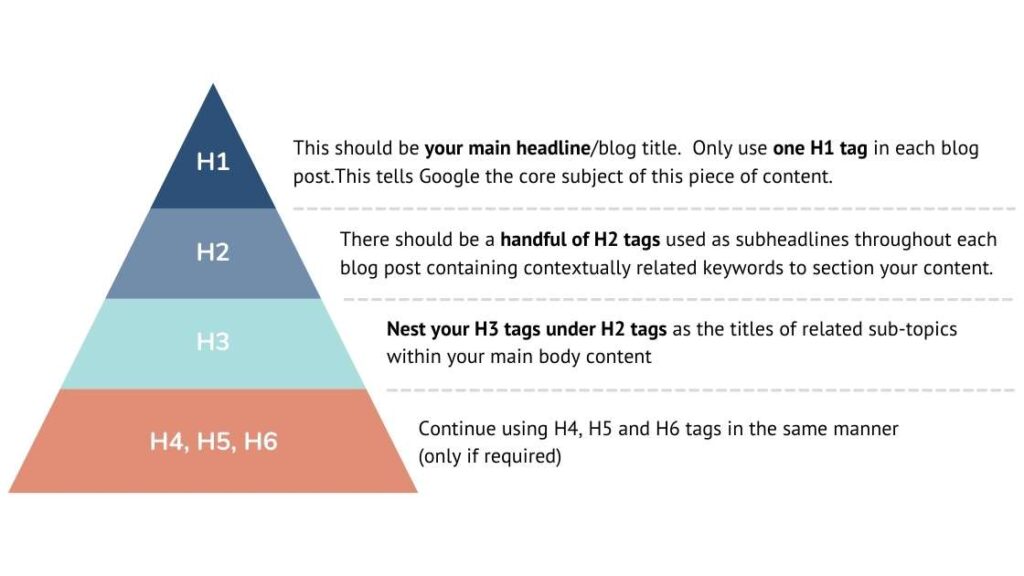 Try to use semantic keywords in these sub-headers that tie to your main long-tail keyword. Here's an example:
In the blog outline below the main long-tail keyword is "Writing High Converting Emails" (H1 Tag/Blog Title). The two core topics (H2 Tags) within this article are "Increasing Open Rates" and "Increasing Click-through Rates" both directly tied to the main long-tail keyword about marketing emails. Within each of those sections, H3 tags have been used to add further keywords that relate to marketing emails: Subject Lines, Sender Name, Email Address, AIDA, Call To Action.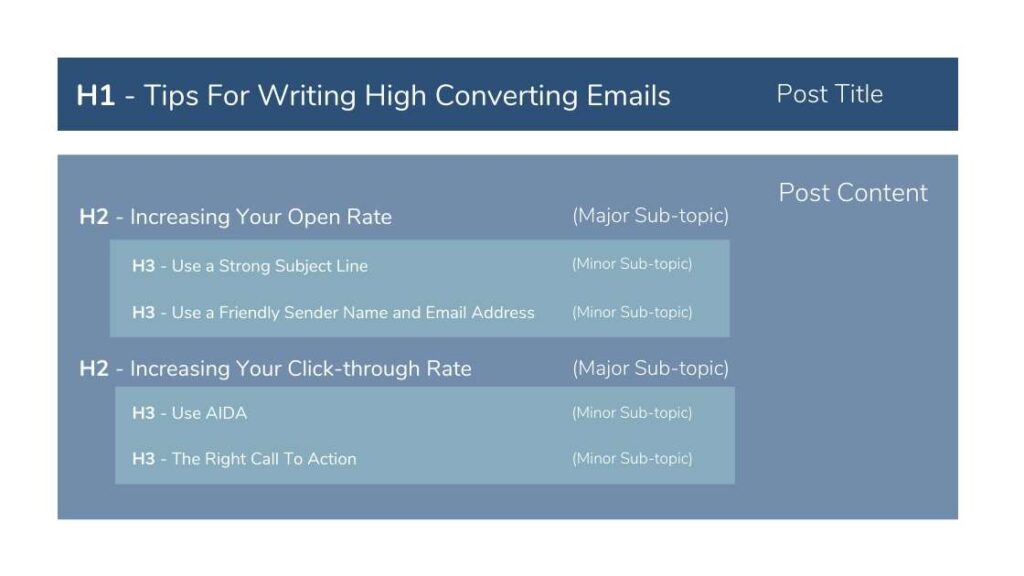 You can see in the example how the post structure and use of related topics to introduce semantic keywords can help search engines understand your content better. Remember to write for a human, not a computer, don't stuff keywords haphazardly throughout your copy; think more about the main topic, and how you can use related topics to introduce keywords in a more natural and contextual way.
Don't forget to always check your blog titles with a tool like Headline Analyzer to check your they are optimal for search engines.
WordPress Users: It's important to note that the tag used on your blog title will be set within your theme, make sure to check that it's using the H1 tag and also that it's not using the H1 tag anywhere else on the page. If you need help checking this get in touch
#2 Add alt tags to ALL images
What is the alt tag?
Wikipedia explains it well…
The alt attribute is the HTML attribute used in HTML and XHTML documents to specify alternative text (alt text) that is to be rendered when the element to which it is applied cannot be rendered.

The alt attribute is used by "screen reader" software so that a person who is listening to the content of a webpage (for instance, a person who is blind) can interact with this element. Additionally, it substitutes the image when copy-pasted as text and makes images more machine-readable, which improves search engine optimization.[1] 

– Wikipedia, 2021
Adding the alt attribute
Adding alt tags to all images is a grossly overlooked step in SEO. It's important that your alt tags describe the image, as the main purpose of an alt tag is for accessibility purposes; to offer a description of the image to the visually impaired site visitor who is using a screen reader. However, since search engines also read the alt tags, it's important that your description of the image also contains keywords relevant to your page's topic.
WordPress Users: You can add alt text to an image when you upload it to the media library, select the newly uploaded image and in the panel on the right you'll see a field labelled 'Alt Text', enter your alt tag copy here.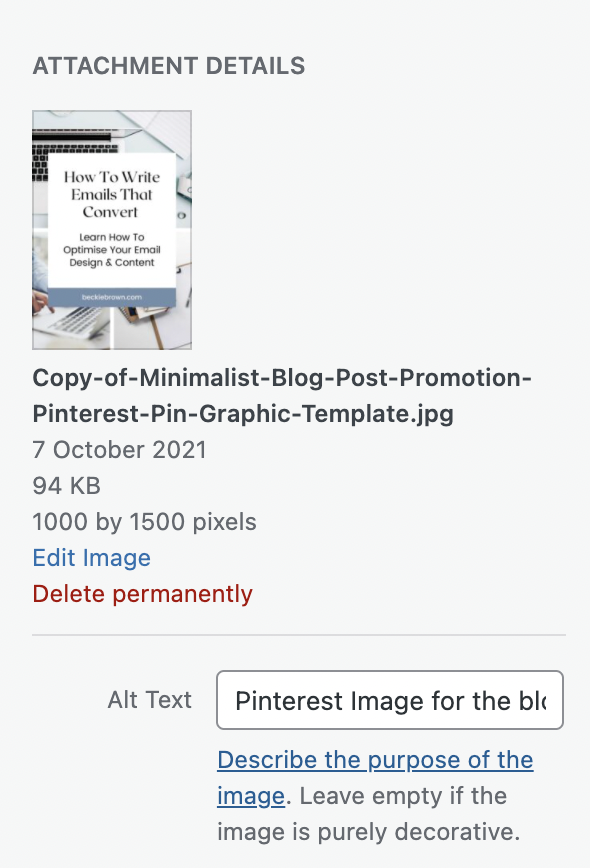 In the example above, one of my pin images, the alt tag is "Pinterest Image for the blog post How To Write Emails That Convert" This explains the purpose of the image and also includes the same keywords used in the blog title.
If you can't include keywords in an alt tag for some reason (such as the image being purely decorative), at least provide a clear description of the image, so that it meets accessibility guidelines.
If you have hundreds of images scattered throughout your site without alt tags, consider using a plugin such as Rank Math to dynamically add missing alt tags to your image. Rank Math adds the tag when the content is displayed so the stored image is never changed.
#3 Add internal links to other pages within your website
Getting backlinks from other sites can be hard, especially when you're just starting out and you have limited content. This is a time when linking internally to other pages with a similar or retailed topic is of the highest importance, linking to other articles provides further context to Google on what your content is all about.
Don't underestimate the power of internal linking.
An often-overlooked process that will also help is regularly going back to older content and inserting links to newer content. Why not add a regular task to your schedule to go back and review older content for new linking potential and verifying that your older external links are also still relevant and working.
More SEO Tips
Use a tool like Headline Analyzer to check your blog titles are optimised.
Use a plugin such as Rank Math to dynamically add an alt tag where they are missing.
Schedule an annual content audit.
For each blog post (particularly older ones) check that:

content is still relevant and correct
all internal links still work and update where necessary
older posts contain links to any new content written since
all external backlinks are still correct and update where necessary
📌 Pin For Later