SEO – Top Facts You Need To Know
If you've ever doubted the importance of Search Engine Optimisation as a part of your digital marketing strategy, these SEO statistics could be a turning point for you. Showing the potential traffic gains that you can achieve by increasing organic traffic and the importance of getting it right. Content marketing should not be limited to social media.
Disclosure: Articles on this site contain affiliate links. For more details, see the full disclosure.
1. Over 75,000 searches are made on Google per second
75,000 searches per second equate to billions of searches per day. Who doesn't want a piece of that pie!! Stat's like this should make you hungry to improve your sites Google ranking and highlights the importance of prioritising search engine optimisation and the potential organic search traffic it can drive to your site. Receiving less than a 1% share of that traffic could add thousands of visitors a day to your existing traffic sources and reach new potential customers.
2. The first five organic search engine results get 67% of all search result clicks
This one really highlights the importance of not settling for less. Reached 6th position, keep improving. It's the top 5 spots that steal all the glory with positions 6 – 10 and other pages beyond being overlooked by the majority. Even the paid search ads at the top of the page don't get a look in, comparatively.
3. 93% of Google-owned traffic goes to secure (HTTPS) sites
Let's quickly refresh our memory on the difference here:
HTTP = Insecure. When folks try to visit your HTTP site, they will likely receive the dreaded "site not secure" not secure warning that could prompt them to hit the back button.
HTTPS = Secure. When folks visit your secure site, they get the reassurance of that little padlock next to the URL in the address bar, letting them know their data is safe from potential security threats.
Google always prefers HTTPS over and above any insecure content and have stated this preference openly on their Google Developers Blog.
4. 91% of content on the web gets no organic Google traffic
For me, this was the most shocking statistic and provided a real perspective on how much content is out there on the internet, overlooked and not achieving its full potential. A reminder that we are all a tiny part of something much bigger.
If you already receive organic traffic from Google, take a minute to appreciate that your content is part of the 9% to achieve Google greatness. An Ahrefs' study also found that just 0.3% of pages get more than 1,000 monthly visitors. But there's always room for improvement, is it time to expand your search engine market share?
5. 50% of search queries are four words or longer
This highlights the importance of doing your keyword research and understanding how internet users search.
Keywords tend to fall into either short tail or long tail, with the long tail being more specific and resulting in smaller search volumes, this can however make them easier to rank. It's important to have a variety of both short and long-tail keywords in your content that are semantically related.
As humans searching for information, we tend to use multiple words or complete phrases when searching for information, using search queries such as 'SEO case study examples' or 'how to learn SEO step by step' rather than just 'SEO, giving greater context to the purpose/intent of the search.
6. Mobile accounts for 51.6% of all web traffic in 2021
With more Google searches on mobile than desktop, it is essential that your site and all its content is mobile friendly. Whether it is your target audience or not, you will undoubtedly receive some mobile traffic, with 51.6% of all web traffic coming through mobile devices in April 2021.
Even if you are selling a B2B product or service, don't assume all your prospects are sat at a desk in an office; with the rise of remote working and work-from-home culture, more and more traffic, even in business, is coming through mobile devices.
7. Google Search Console is the most popular SEO tool
Despite all of the feature-rich SEO tools available, Google Search Console is still the most popular one available, perhaps because it's free but also because it's so easy to use. Search Console was closely followed in popularity by SEMrush, which also scored highly in an ease-of-use survey.
SEO tools can be a great help for interpreting where your content excels and where it doesn't. For example, SEMrush's toolkit includes an 'On-Page SEO Checker' that provides 'Optimisation Ideas'. These ideas include suggestions for strategy, backlinks, technical SEO, user experience, SERP features, content ideas and semantic terms.
(Source: 38 SEO Statistics You Need to Know for Increasing Your Search Rankings, DataBox)
Enjoyed this article? Say thanks with a pin 📌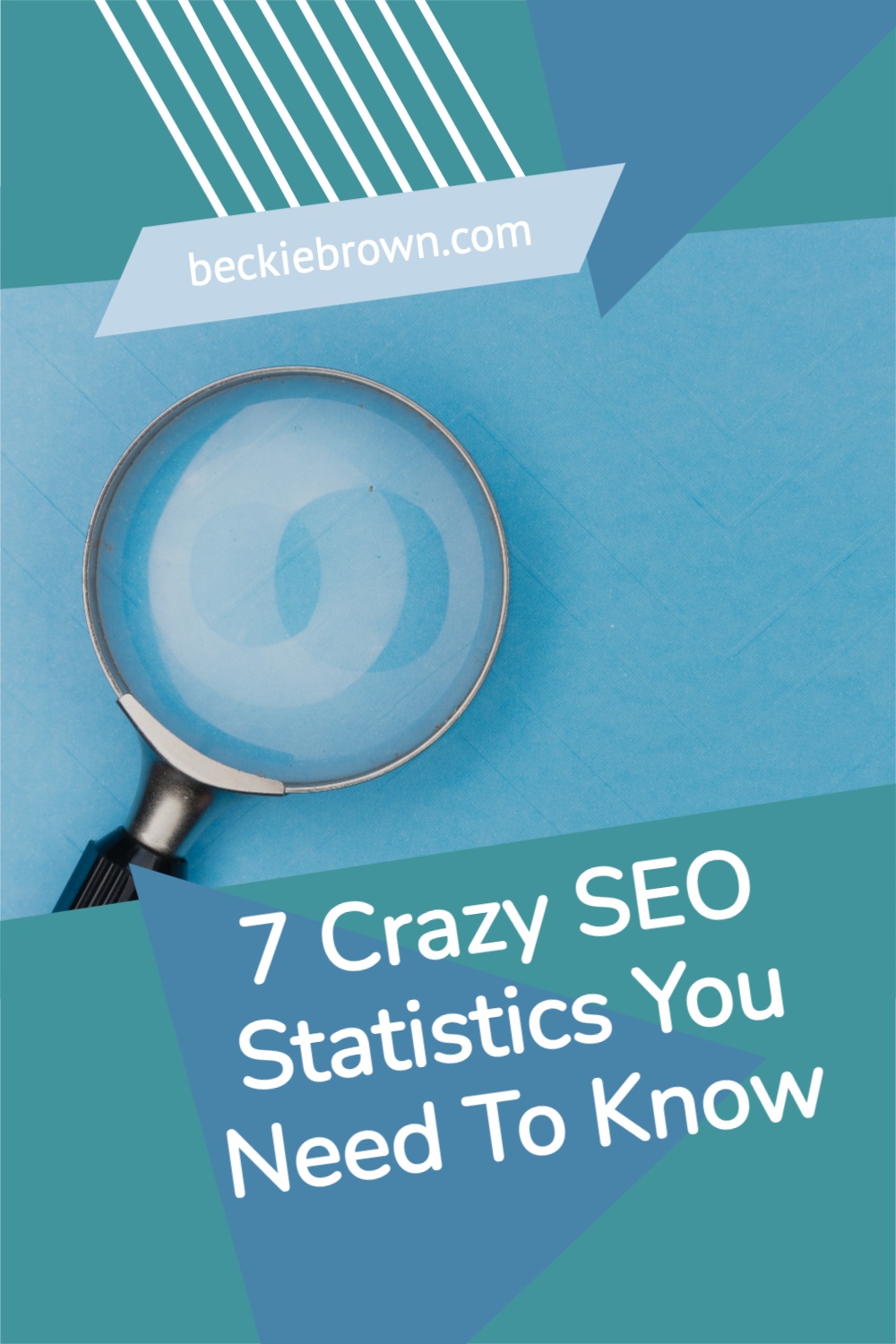 RELATED READING:
What is SEO? A Beginners Guide To Search Engine Optimisation
Make SEO Easy With The Rank Math WordPress Plugin
Glossary of Key SEO Terms
SEO: Search Engine Optimisation: the process of making your site better for search engines. Sometimes the job title of a professional who optimises websites for a living (Search Engine Optimiser).
SERPs: Search Engine Results Pages, these are the pages displaying all the search results.
Indexing: Search Engines such as Google store all the web pages it knows about in an index. Indexing is the process of Google fetching a page, reading it and adding it to the index.
Crawl: This is the process search engines use to discover URLs. It does this in several ways, but most commonly by following links on pages and reading sitemaps. When a search engine crawler finds new pages, it indexes them.
Googlebot: The generic name for Google's crawler that crawls pages to add them to its index.
Ranking: When a user performs a search, the search engine checks its index for relevant content and then provides the user's results in the order it feels is most relevant to least relevant. This ordering of the search results is known as ranking. If you are at the top of the results, the search engine believes you have the most relevant content for the user's search query.