Why Pinterest?
Pinterest Pins have the greatest life span of any social media type, generating traffic for months, sometimes even years. Many of you reading this probably arrived here from Pinterest. This article explains how using a combination of Pinterest and Tailwind; you can bring engaged Pinterest users to your content.
Disclosure: This article and others on this site contain affiliate links. This means I may earn a commission should you chose to sign up for a service or make a purchase using these links. I was also compensated to create this post. This small commission helps me maintain this site and continue to provide content for you and many others. For more details, please read my full disclosure.
Now many of us have used Pinterest in a personal capacity to create vision boards for new projects, ideas, home decor inspiration, and much more. But what many people fail to understand about Pinterest is that it is essentially a visual search engine; people go there with an idea they want more information on or get inspiration. The pins are their search results, and they each link to the valuable content they are seeking. In your case, they will link to your blog, bringing Pinterest users to your content.
This is why it's essential to establish a strong Pinterest Marketing strategy, using Pinterest to engage customers and drive traffic to your site. If you haven't yet started a Pinterest account for your business learn how to create one here.
Why Tailwind?
Tailwind is a Pinterest Scheduling and Pin Creation tool. It is an Official Pinterest Partner, so it's 100% safe to use with your Pinterest account and designed with Pinterest marketing in mind.
Tailwind has three awesome features to help you get the best performance from your pins:
Tailwind Create (NEW in 2020)
If you haven't yet signed up for a free Tailwind trial, you can do that here.
Tailwind Communities
Tailwind Communities are groups of business users who share their pins for other community members to re-pin to their boards. Most communities work on a 1:1 rule. Meaning that you must re-pin at least one from a fellow community member to share a pin of your own. Some follow a 2:1 rule, where you must re-pin at least two other members pins to add one pin of your own. 
Be warned: Community admins regularly kick out members not playing by the rules or spamming the group with their content. Play fair; don't spam.
There are a variety of opinions on whether you should re-pin content in the same niche as yours. I tend to re-pin content in the same or similar niche but isn't directly competing with my own. This works fine for me. I also get a lot of new ideas and inspiration from seeing what others are putting out there.
Tailwind Communities allow you to reach the followers of other users; this leads to the pin repeatedly being re-pinned and gaining traction around the Pinterest platform. Don't forget: a pin is forever! As long as at least one person (you) keeps it pinned to at least one public board, it has the potential to be found in a search.
SmartLoops
The second feature, SmartLoops, is a great way to seed your long-life content on Pinterest regularly. You create a loop-based around a particular niche or product type; you add a selection of default boards to which the loop will regularly add the pins. When you add pins to your loop, they are scheduled to all the default boards you added. The loop schedules all the looped pins across all the default boards, and when it has run out of pins and boards… yep, you guessed it… it will start the process again, repeating this 'loop' through all the pins and boards. 
Handy Tip: To prevent you from spamming boards with the same pins repeatedly (this is as bad for you as it is for Pinterest), the loop schedule sets a minimum time before the loop can repeat. It even has a warning if you set this too low. 
You can get started with Tailwind for FREE today.
Tailwind Create
Launched towards the end of 2020, this has fast become my favourite feature of Tailwind! It saves me so much time in new pin creation and easing my design fatigue (I really struggle with designing new pin layouts!)
Tailwind Create allows you to produce multiple pin designs for a new blog post quickly and easily with 100's of layout options available. You can set up your brand in advance, so it has your logo and colour scheme saved, ready to apply to your pins each time you create them.
Pop your blog post link into the URL box; it will get the blog title and any photos from the blog automagically. Click the magical Create Images button. Tailwind Create will present you with hundreds of pins, all different designs and layouts made with YOUR logo, YOUR colour scheme, YOUR choice of images, YOUR blog title, all ready to be loaded directly to Tailwind for scheduling!!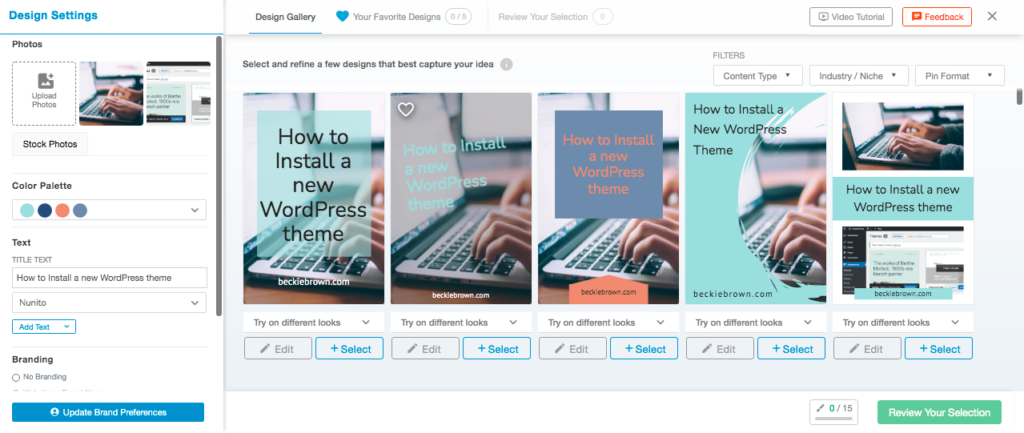 Of course, you can make edits to any individual pins to suit your needs, and it's not recommended to use all these pins; that would be far too many for a single blog post. It's the sheer speed of creation and the vast choice of designs that I love!
Learn more about Tailwind Create in my post: Turbocharge Your Pin Creation with Tailwind Create
How does all this boost traffic to your blog?
When you create your pins, whether through Pinterest, Tailwind or by pinning directly from your blog, your pins always include a link to your content. Tailwind allows you to enter this link, along with a Pin Title and Pin Description; you must use both title and description, making sure to include keywords from your SEO strategy. This way, when your pins are re-pinned to another user's board, and other Pinterest users click that 'Read' button, Pinterest will take them directly to your content!
Let's See Some Results
(based on my personal blog)
I started my Pinterest Business Account with zero followers, just over 2 months later I was averaging over 21,000 unique views per month. I now have over 160.
Not only did I see significant improvements to my web traffic which continues, but I am also saving so much time with Tailwind. I sit down once a week to schedule content from my communities and add fresh pins for old and new content. This saves me from having to log on to Pinterest each day for manual pinning.
It's important to note that these are examples of my personal results. Still, Tailwind also publishes the Typical Results of Tailwind Members every year, so you can see exactly what the average growth rate looks like for their members.
If, like me, you're a data and analytics fan, Tailwind is for you because it provides great insights. You can also opt-in to get daily, weekly or monthly summary emails that show you activity over that period.
RELATED: How to Claim Your Site on Pinterest and Improve Your Engagement
Instagram user?
Another excellent feature of Tailwind is its Instagram scheduler and Smart.bio. If you're struggling to get followers to click through from Instagram to your site, I highly recommend checking it out.
It's important to note that the Pinterest and Instagram functions in Tailwind are covered by two separate subscriptions; however, the excellent free trials offered for both (based on post/pin count, rather than Time-based) give you a good feel for what features you will use most.

Get Started with Instagram Scheduling on Tailwind Today
Make sure you're getting all the credit when someone shares your Instagram post to Pinterest. Claim your Instagram account on Pinterest today!
Was this article helpful? Say Thanks with a Pin 📌