Social media has been a game-changer for companies in the modern age. Not only is it easy to use, but it's one of the most effective ways to reach out and connect with your existing customer base and potential customers.
It isn't easy to keep up with all the different social media networks that are available. There are several different social networks that you can use to get your message across; however, not all are created equal when using them for business.
Everyone uses social media differently, so it's essential to understand how and why your audience use social media before deciding which platform is right for your business. For example, Facebook and Twitter have a broader audience, while Instagram and Snapchat are more popular among younger social media users.
When beginning your social media marketing strategy, how do you know which one is the right starter for your business?
The question is not which social networking site is best for your business but on which network will you most often find your target audience?
Understanding what kind of person you want to reach will help determine which channel would most effectively reach your core business goals, whether selling a physical product or a personal service.
What do I need to know about my target audience?
If you're not sure who your target audience is, it may be helpful to look at your sales numbers and marketing efforts to figure out who most resonates with your brand when you start to think about defining your target audience.
Try to gain as much information about them as possible, being as specific as possible:
Age group?
Gender?
Family status?
Are they employed? Self-employed? Unemployed?
If you're marketing a B2B product or service, should you be targeting those in a particular job role? Are you targeting the CEO or the head of a particular department? What sector or industry are your target customers are in?
Understanding your target audience and how they're using social media is an excellent first step. Next, you should think about the different channels that are available to reach that particular audience.
Facebook and Twitter are popular with many since they are two of the oldest platforms. However, Instagram, Tik Tok, YouTube and LinkedIn may be more popular with specific demographics.
If you sell physical products or services, posting updates on Facebook and Twitter will make sense, but videos on YouTube might better promote something like a class or event.
Developing an ideal customer avatar, paired with understanding the different demographics of each social channel, will help you better understand which channels are right for reaching your target audience.
Suppose your target market is younger; Facebook may not be the best place to market your business since it is one of the least popular channels among younger generations. However, Facebook is popular among older generations, such as millennials and baby boomers. (Urgh, I think I just put myself in 'the older generation'!)
You might also want to think about what type of content you should post on each channel. A blog is perfect for Facebook and Twitter, where comments and discussion are common forms of engagement; LinkedIn is also an excellent place for sharing business blogs that provide helpful insight to other businesses.
In terms of video content, Tik Tok or Instagram may be better suited to quick, impromptu videos over YouTube because these channels are geared more towards short videos (<1 min) than YouTube, which encourages longer-form planned and choreographed video content.
Which social media platforms do they use?
Let's look at some statistics on who is using each channel.
Facebook Users
In the United States, 50% of adults use Facebook. There are more female users than males and an average age of 45-54. The key for Facebook is to post personal updates that followers will find interesting, like articles they might have missed on other sites or new photos from your family vacation.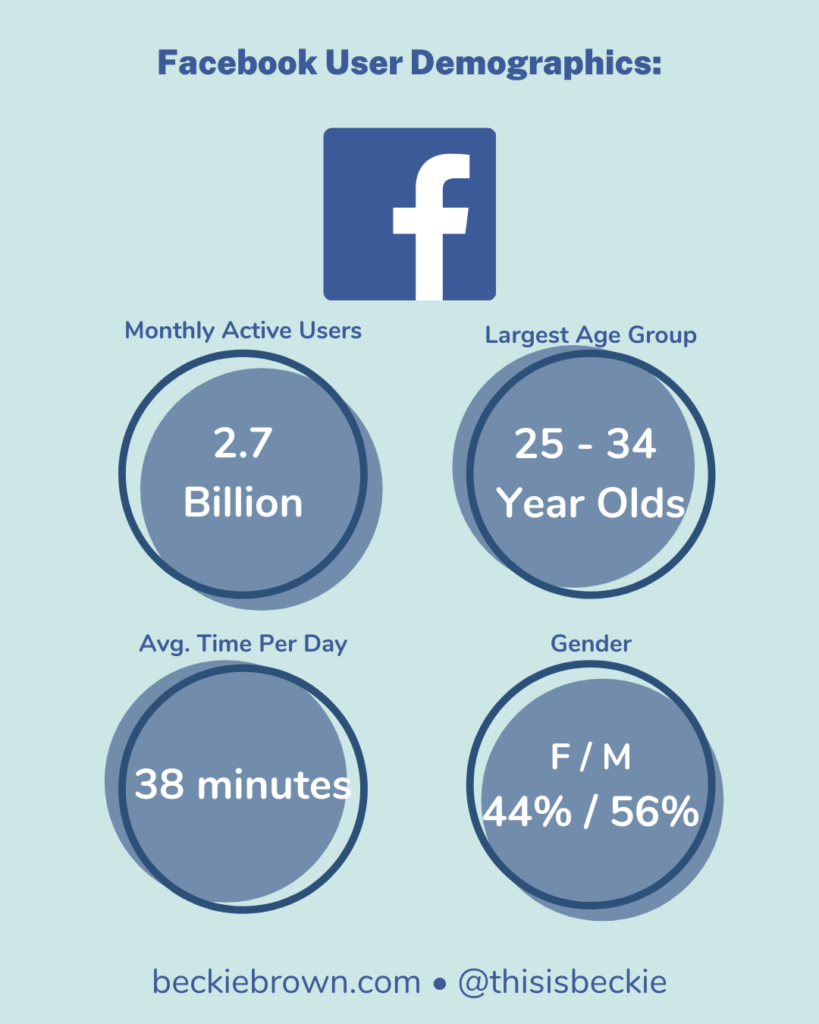 Instagram Users
The second-largest platform after Facebook, sharing the same ad platform as its parent, offers many cross-platform promotion opportunities. Instagram is the no.1 platform for Influencer marketing, with its largest age group between 25 and 34-year-olds.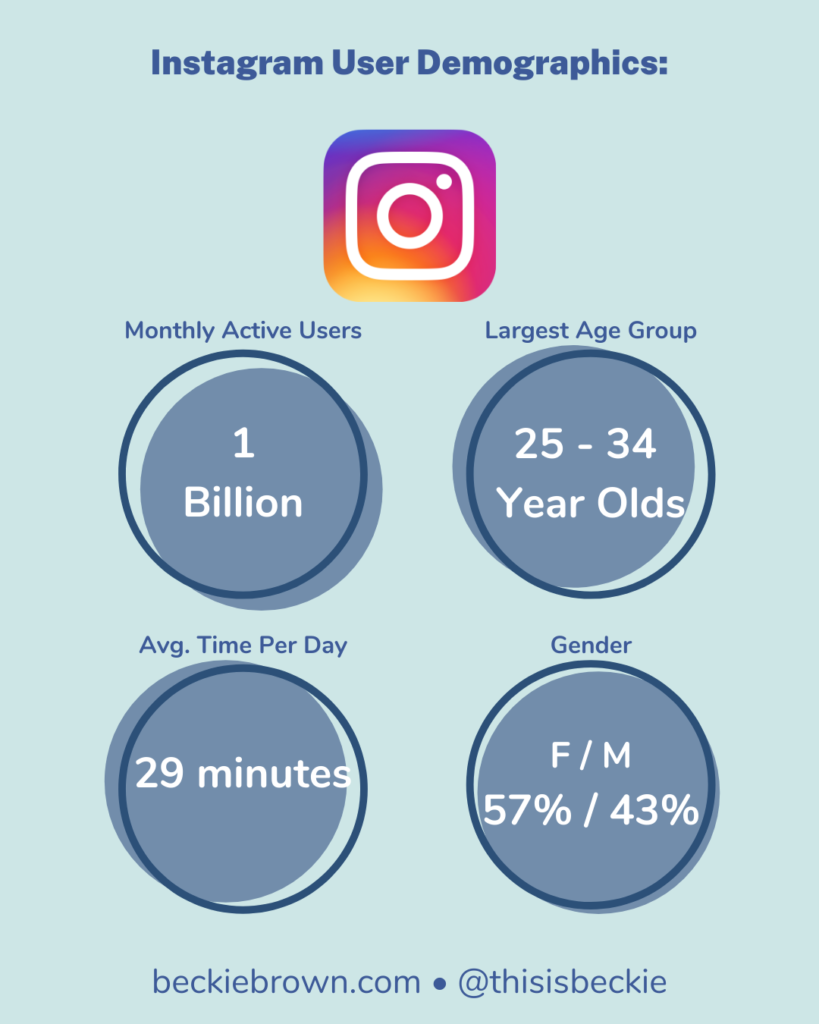 RELATED: GETTING STARTED WITH INSTAGRAM FOR BUSINESS
LinkedIn Users
According to research by Pew Research Center in 2018, 28% of all adults aged 18+ use LinkedIn, with 53% being college graduates and 39% earning over $75k, but keep in mind this is primarily a B2B audience.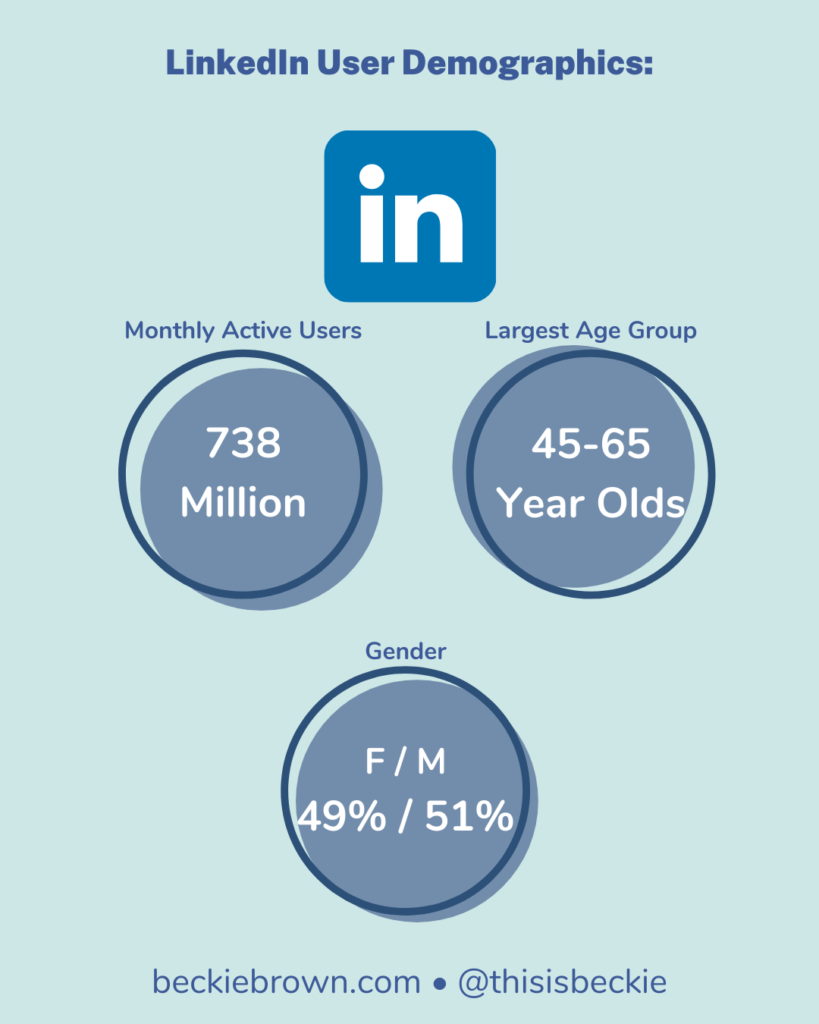 Twitter
With over 187 million daily active users, 80% of tweets come from just 10% of the platforms most active accounts. Twitter has earned a badge of honour as the place for discussion; it's the platform of choice for engaging with live events, gathering breaking news and conducting customer service.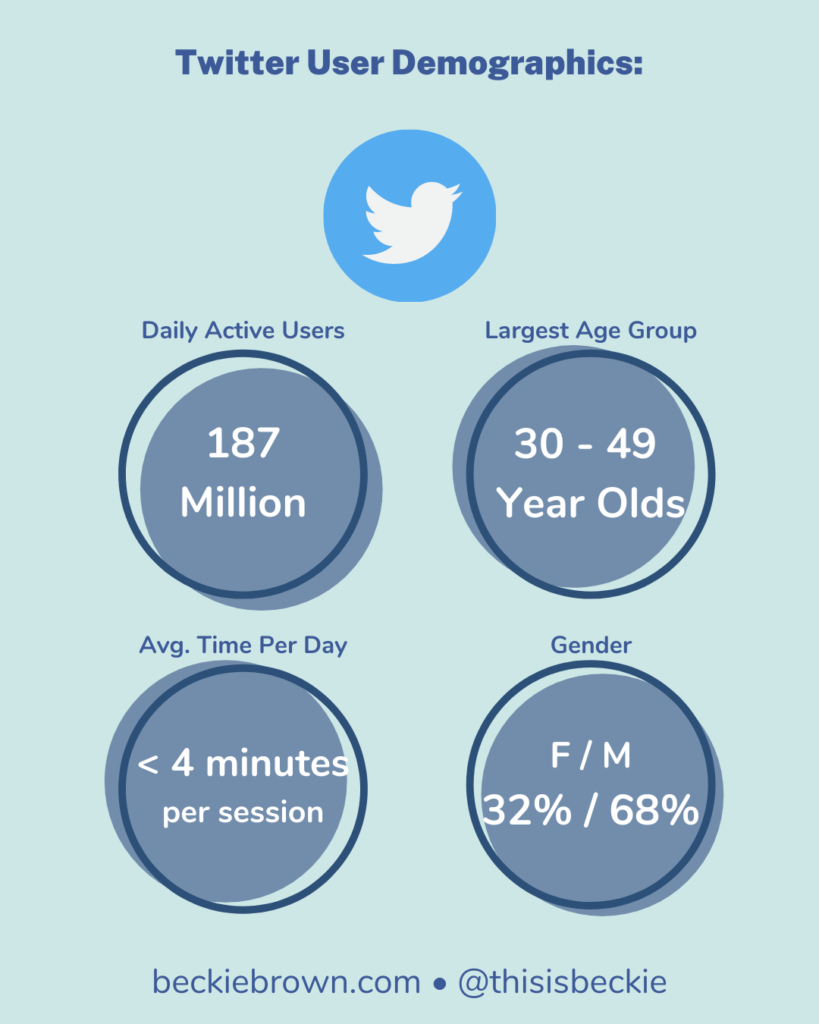 Pinterest Users
The largely female user base has recently seen a spike in usage by Gen Z and Millenials. Pinterest is by far the most product-centric platform with a huge focus on imagery and is seeing big increases in both ad spend and organic use.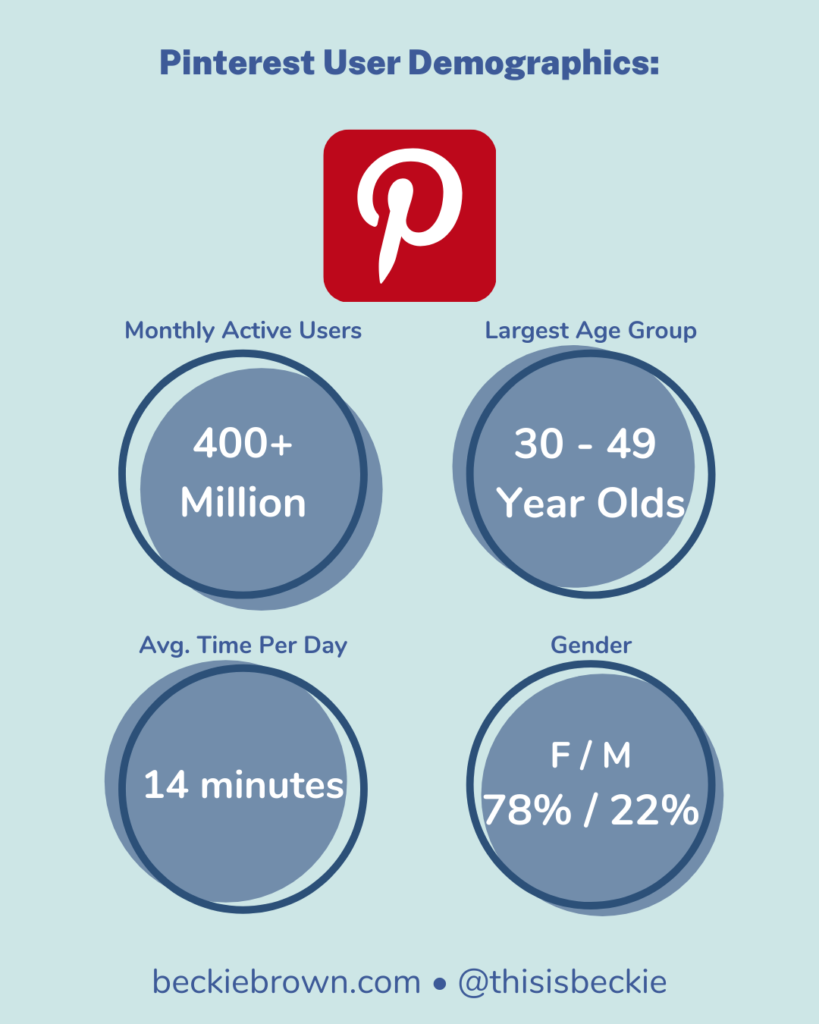 RELATED: GETTING STARTED WITH PINTEREST FOR BUSINES
TikTok Users
The platform has seen explosive growth, with its core user base being between 18-24, the youngest user base of the platforms cover here, although it is seeing growing use among adults. Ad features are expected to come to the platform this year.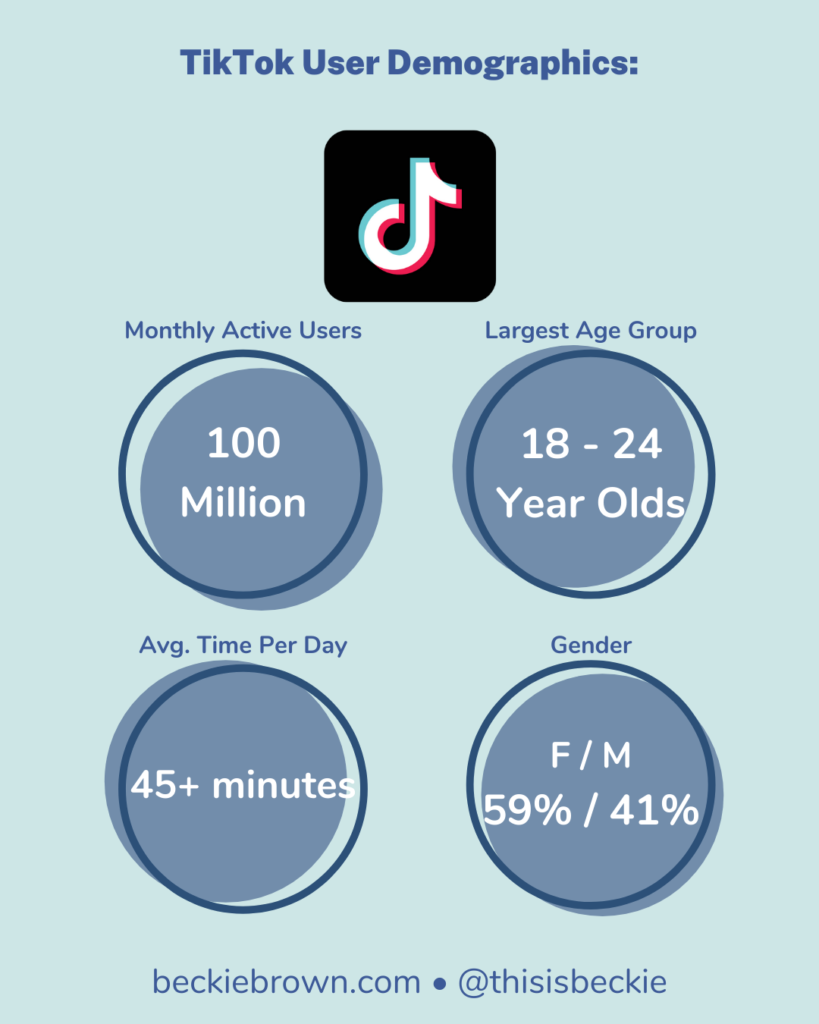 YouTube Users
The average YouTube user over the age of 18 spends 42 minutes a day on the platform, with 62% of users logging The average YouTube user (over 18 years of age) spends an average of 42 minutes a day on the video platform, with 62% of users logging in daily. YouTube's continued growth underlines the continuing shift towards video content.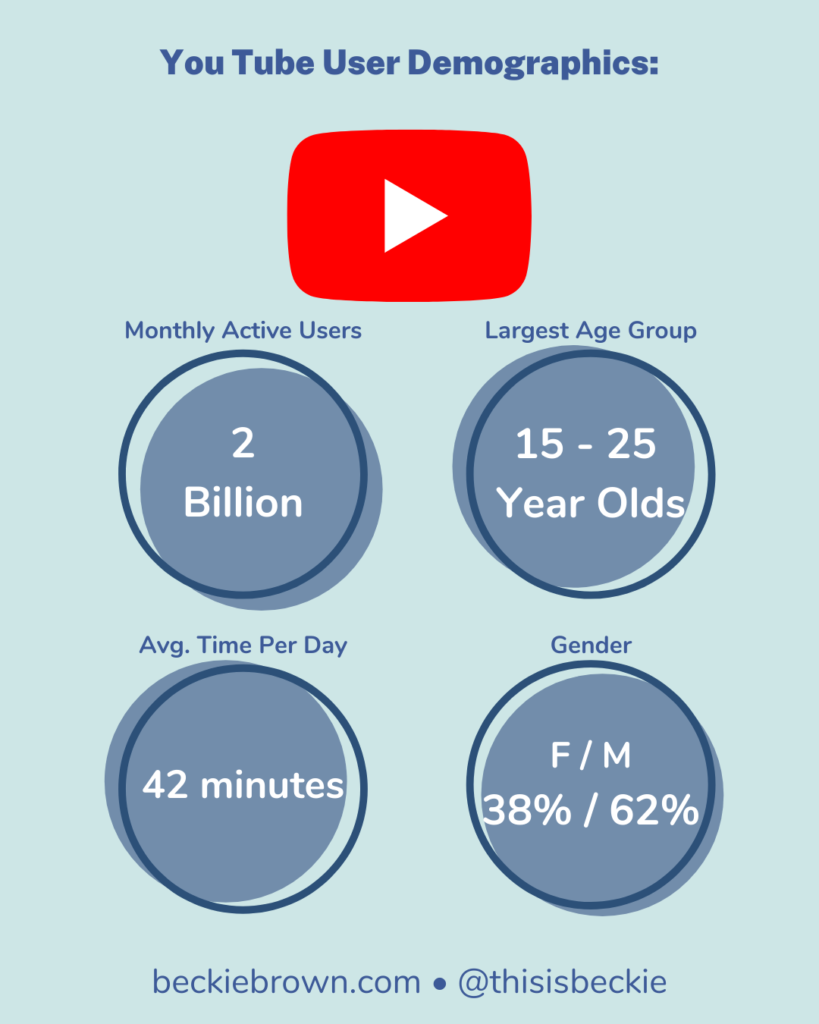 (Numbers correct at time of publishing. Sources: Sprout Social, FrontiersIn)