Have you claimed your website on Pinterest yet? Do you even know what I'm talking about? Let me explain.
Business users on Pinterest have the option to 'claim' their website and external accounts for Instagram, Etsy, and YouTube. Although this article focuses on claiming your website, claiming other accounts (if you have them) can also add value if your business utilizes those platforms. This guide covers methods to claim your WordPress website on Pinterest or claim your Wix website on Pinterest.
Disclosure: Articles on this site contain affiliate links. For more details, see the full disclosure.
Why should you claim your site on Pinterest?
The biggest benefit and most significant reason to claim your website on Pinterest are to ensure all pins from your website URL are attributed to your brand and boost your appearance in search engines for articles linked to popular pins.
Whilst your site remains unclaimed, any images that get pinned from your site are automatically attributed to the person that pinned them, not you, the content creator.
Claiming your site is Pinterest's way of verifying that you own the domain so they can attribute all pinning activity from that domain to your account. This is an essential process that anyone beginning a Pinterest marketing strategy should complete first.
Once you verify your website, any pins created from your site are attributed to your Pinterest Business account, regardless of who pins them. This will mean that going forward all content pinned from your domain will display your profile image, profile name, and a big 'follow' button linked to your business account, helping to build brand awareness and grow your following.
In a February 2021 study of over 2m accounts Pinning in November and January, fully 80% of those consistently enjoying higher than average engagement rates had claimed their domains on Pinterest. Compare this with under 3% of the consistent underperformers.

– Data Study by Tailwind
The pins attributed to your Pinterest profile through the claimed site now also contribute to your analytics, giving you valuable insight into pin performance and activity. So even when others pin images from your site directly to their boards, you'll still be able to track the engagement on those pins! How amazing is that?!
How to claim your site:
Let's take a look at the different methods by which you can claim your site. First, log in to your Pinterest account, and head to the claim website section by clicking the arrow next to your profile picture (top right) then Settings > Claim, you should see a page like this…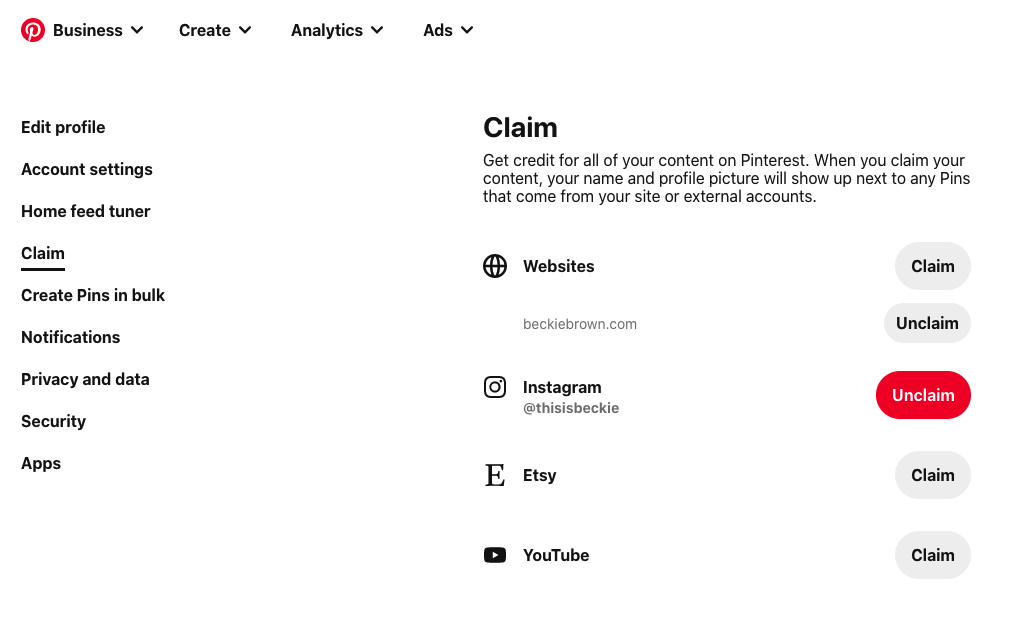 Click the 'Claim' button to the right of 'Websites' you will see a pop-up dialog similar to this…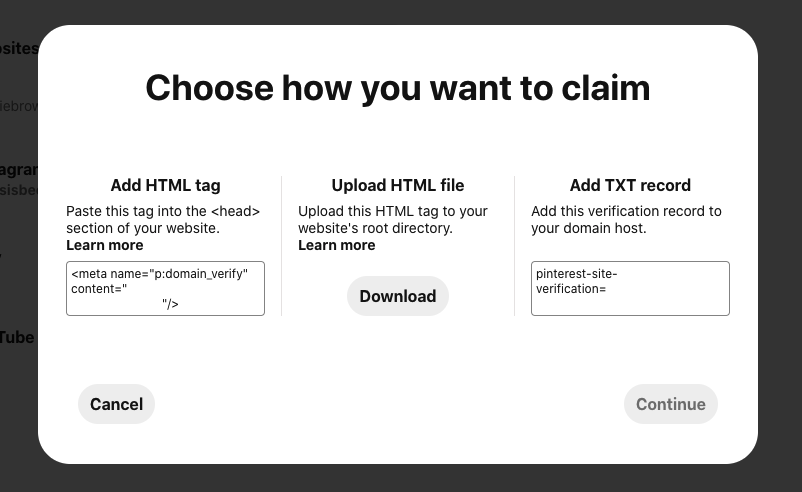 There are 3 methods to claim your site:
Add an HTML tag to the head section of your site. (Easiest option)
Upload an HTML file to the root directory of your site. (Good alternative)
Add a TXT record to your DNS records. (Not recommended for beginners)
Option 1: Add HTML tag (Recommended)
This is probably one of the simplest options that you may be familiar with if you've added other scripts to your sites such as Google Analytics or Facebook Pixel. The code snippet needs to be added to the head section of your site's HTML code, that means somewhere between <head> and </head>
For WordPress Users:
If you're a fairly new WordPress User and have no experience adding code to your site, I recommend using a plugin such as 'Insert Headers and Footers'; it's super easy to use. Once you've installed and activated it on your WordPress site, go to Setting > Insert Headers and Footer, then paste the code snippet provided by Pinterest into the top box and hit 'Save'. Return to Pinterest, hit continue, add your site's URL, and click the verify. Congratulations, you've claimed your site on Pinterest!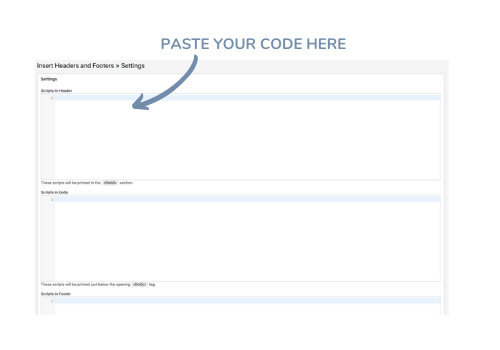 For Wix Users:
Great news if you're claiming a website on Wix: The Wix dashboard has a section in your SEO tools for this very task. Log in to your Wix Dashboard and go to SEO Tools > Site Verification, drop open the Pinterest option and you will find a field to paste your HTML tag into. Save this, then return to Pinterest, hit continue, add your site's URL, and click the verify. Well done, you've claimed your site on Pinterest!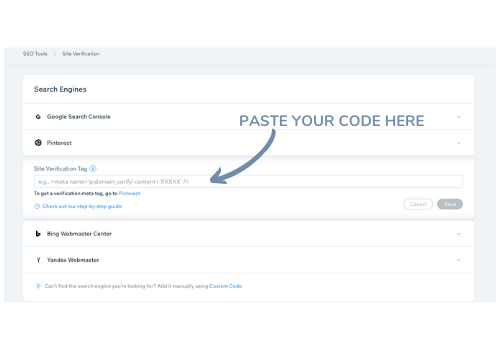 Option 2: Upload an HTML file
If you have FTP (or similar) access to your site, then this is a really simple option. Download the file supplied by Pinterest, then using FTP (or file manager in your hosting dashboard) upload the file to the root directory of your site (that's the main directory where your homepage lives). Do not upload it into a subfolder, if you do, Pinterest won't be able to find it. 
Once the file is uploaded, return to Pinterest, hit continue, add your site's URL, and click the verify. (If it doesn't verify initially, come back in 24 hours and try again)
If you need to use this method and need some help. Head over to my services pages and check out my Quick Fix service.
Option 3: Add a TXT record (Not recommended)
This method is reserved for those with experience in updating DNS records. This is not recommended for beginners, making a mistake with your site's DNS records can break your site. For more information on this method see the Pinterest Help Docs.
If you need to use this method and want help. Check out my Quick Fix service.
You've Done It!
Congratulations 🥳, your site is verified with Pinterest. All pins created directly from your website will now be tracked in your Pinterest Analytics regardless of who pinned them, yourself or your readers.
Was this article helpful? Say Thanks with a Pin 📌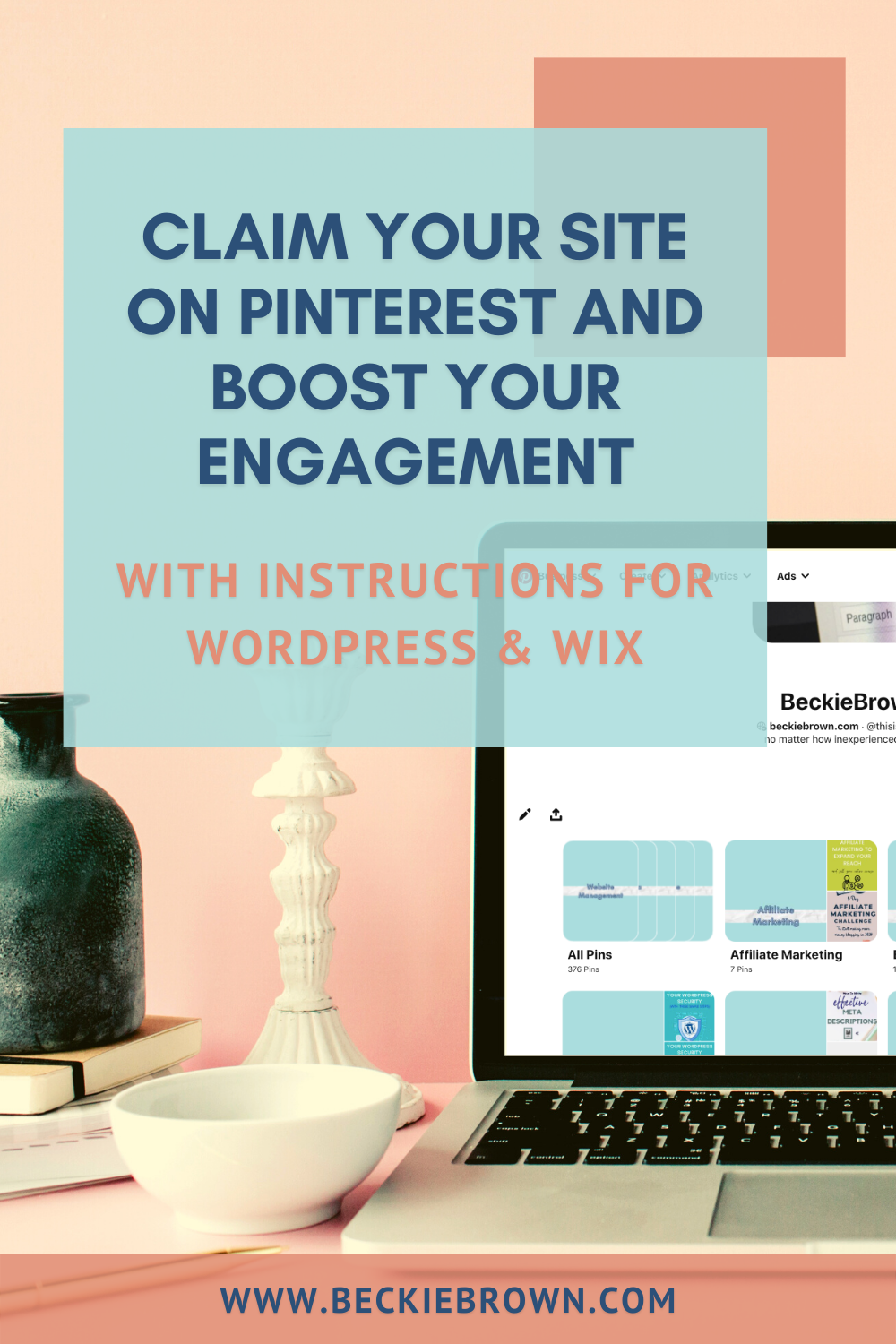 If you're looking for more ways to give your Pinterest account a boost, generate more engagement, and bring more traffic to your site from Pinterest you should check out my guide to using Tailwind for Pinterest, which includes an introduction to Tailwind Create.